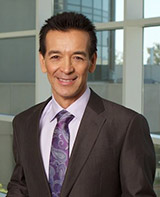 Address:
3075 Health Center Drive
Suite 403
San Diego, CA 92123
Dr. Richard Leung is an internationally recognized ophthalmologist specializing in refractive and laser eye surgery. He has pioneered Laser in-Situ Keratomileusis (LASIK) and has performed thousands of laser vision correction procedures. Dr. Leung taught LASIK techniques to eye surgeons from around the world and in fact, other physicians, optometrists and ophthalmologists have selected him to perform their LASIK.
Dr. Leung gained fame and captured the attention of people worldwide when he performed the world's first live Internet LASIK procedure. He has received numerous awards including the Ioptex Award for Innovative Techniques in Eye Surgery and the USC Newburn Award for Research Excellence in Ophthalmology. He has the distinction of being chosen as one of the "Top-Rated Physicians in America".
Dr. Leung is a board-certified ophthalmologist who completed his training at the University of California San Diego, University of Southern California and John Hopkins University. He is a member of the American Academy of Ophthalmology and of the International Society of Refractive Surgery.
---