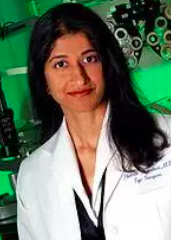 Address:
5330 Carroll Canyon Road, Suite 210
San Diego, CA 92121
Padma Nanduri, M.D., F.A.C.S., was raised and educated in New York State. She has lived in three separate countries and is recognized for her superior skills as a physician and surgeon. As a married individual, she passionately enjoys her family, cooking, writing, journalism, tennis/sports and travel. If you have not met Padma Nanduri, M.D., she may still look familiar for some uncertain reason. That reason may relate to her role with NBC, Channel 7/39, KNSD, where she served as their regularly featured medical expert several years ago.
Dr. Nanduri is a Board Certified Ophthalmologist who fulfilled her Ophthalmology Residency as chief resident attending Saint Louis University in Saint Louis, Missouri. Her Medical Degree was attained from the University of Rochester, School of Medicine and Dentistry, Rochester, New York and her Bachelor of Science in Communications was granted by Syracuse University, Syracuse, NY. Dr. Nanduri graduated Summa Cum Laude, was a Rhodes Scholar nominee, received her medical degree with an honor for Distinction in Research, received the Spencer Organic Chemistry Award and was selected to Phi Kappa Phi. Subsequently she undertook her fellowship with Orbis International, a charitable organization whose mission is to fight blindness worldwide.
Once Dr. Nanduri's training was completed, she practiced in Hawaii for several years as part of a group of six ophthalmologists. Hawaii is known for its diverse cultural population and high degree of complicated and medically challenging patients. While in Hawaii she excelled medically and surgically and was honored to be awarded the Po'okele award for patient care. This award is given to one doctor who is selected by the patients for excellence of total care. Dr. Nanduri chose to make San Diego home when she accepted a teaching position at UCSD.
In addition to her role as lead physician and surgeon at Eyesight & Surgical Institute, Dr. Nanduri holds multiple Worldwide Patents in the field of Ophthalmology, treatment of eye disorders and drug delivery. She has trained residents and fellows in the latest clinical practices and surgical methodology at UCSD. Doing so furthered her belief that teaching imposes the most rigorous and continuous standards of excellence in medicine and surgery. Dr. Nanduri has surgical expertise and has performed thousands of delicate eye surgeries such as Cataract surgery, LASIK (Laser-Assisted in-Situ Keratomileusis), PRK (Photo Refractive Keratectomy), Glaucoma surgery, Medical Retina, Eye Plastics, Strabismus surgery, Pterygium surgery and PARK (Photo Astigmatic Refractive Keratectomy). She has extensive experience treating problems related to eye disease, corneal infections, dry eyes, blepharitis, contact lens-related problems, ocular infections and visual field testing. In the past, Dr. Nanduri has served as a clinical instructor and surgeon in Syria and India, volunteering with various humanitarian organizations that conduct surgical missions and education programs for medical providers in developing nations.
---